Greeters
The Mount Comfort Church always wants to be known as a friendly church and are continually looking for volunteers to help in our Greeters Ministry. We try to have official greeters at both of our Sunday morning services stationed at the main entrance of the building to welcome members and visitors to our services. Upon greeting each person, we also offer them worship guides and if they are visiting ask them to sign our guest book at the welcome booth. We are also looking for volunteers to work the welcome booth before first worship service, before Bible classes, and again before second worship service.
Ministry Contacts: Brett Winkle, Curtis Stewart, and Paul Dougan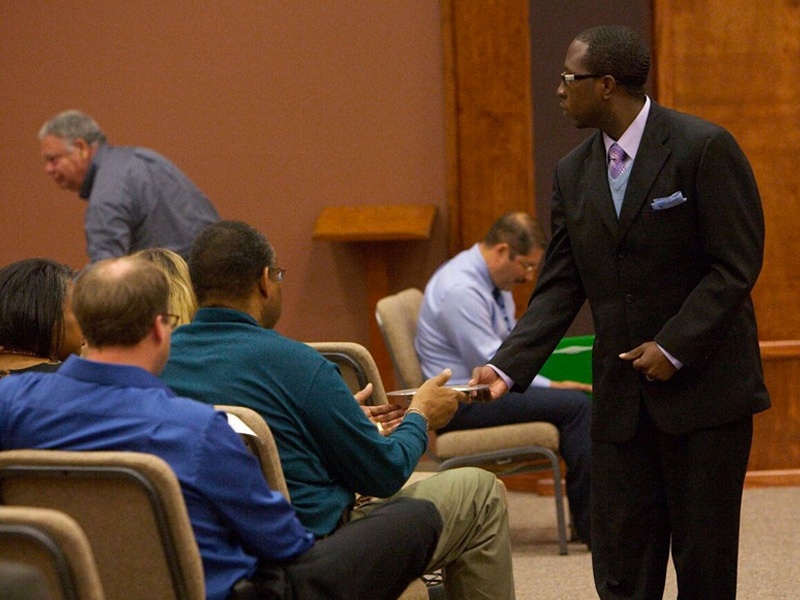 Ushers
Along the same line as being friendly while greeting people at the front entrance, we also strive to help visitors or late arrivers find a seat if needed. This might involve asking people to move to the middle of an isle or adding extra chairs.
Ministry Contacts: Joe Foshe and Justin Cullers
Audio & Visual
During each Sunday morning service, we have a group who work in our AV booth to ensure that the sound and slides are running properly. They also work to record our Services so that DVDs can be made for those who would like one.
Ministry Contacts: Teresa West and Les Nelson
Worship Leaders
Our Worship Leaders are called upon on a rotating basis to put together a song list for our Sunday morning services. Usually one man will lead both services, but occasionally the services will be lead by different men.
Ministry Contacts: Andrew Chance
Worship Prayer
Each Sunday morning service has an opening prayer with scripture reading (provided), and communion prayers/thoughts. These men are chosen quarterly and on a rotating basis.
Ministry Contacts: Philip Gilbey
Communion Servers
Each quarter, a list is put together of those men who would be willing to serve communion and pass the collection plates. We have two services each Sunday morning where six men are needed at each service to serve communion from the front of our auditorium.
Ministry Contacts: Philip Gilbey
LifeGroups
LifeGroups are small groups of people who gather on Sunday evenings to study, discuss, pray, and fellowship together. Relationships built in these gatherings then extend beyond them into our daily lives. Each Sunday's study and discussions based on the same scripture as that morning's sermon. The LifeGroup discussion is intended to help participants not only hear, but apply the Word of God in their own lives and to join with other believers in prayer and Christian fellowship.
Ministry Contacts: Will Schuhknecht
For God so loved the world that he gave his one and only Son, that whoever believes in him shall not perish but have eternal life.

John 3:16